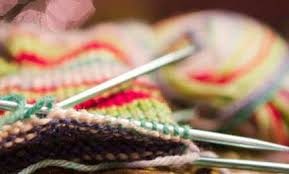 Mindfulness of Knitting
Do we ever understand the effects of knitting and what it does for others?
As knitters it is always a joy to knit for those who we love and gifting it extends the love and kindness of the craft. Does it not give us the pleasure when we visit a yarn store and see the array of yarns and patterns that we purchase? This continues when we make and create giving us the warm fuzzies within and a sense of achievement when it is all finished and displayed to others.
The joy comes not only from the finished product but the process of planning, yarn selection (which must include touchy/feely session and lots of admiring), the challenge and process of knitting which is then capped off by the pleasure of wearing yourself or gifting
Each stitch made is done with love (sometimes includes tears and frustration when we have to tink!) so you put a pick of yourself into every project
One of our greatest pleasures as a knitter is to contribute to charity causes e.g. Fish 'n' Chip jumpers for Plunket, Jumpers and Beanies for Kiwi Family Trust, Booties for our maternity, Beanies for Child Cancer. Our current project is collecting for Little Sprouts http://littlesproutsnz.org/
This creates such a great community spirit among our knitting village and we are always amazed at people's willingness and generosity