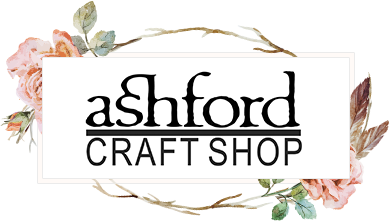 COVID-19 Update
We will endeavor to process any orders that maybe placed on this site, subject to availability. Stay safe out there, lets all do our bit and get through this crisis in good health.
Terms and Conditions
Ashford Craft Shop is an official retailer of Ashford Products but is in no way related to Ashford Handicrafts in Ashburton. Orders for Ashford spinning wheels & weaving looms from overseas customers will be directed to the official Ashford agent in that country
Our Satisfaction Guarantee
We know you'll love your products as much as we do. In fact, if for any reason you're not completely satisfied with your experience, we will make it right
Pricing
All prices on the website are in NZ dollars and GST inclusive. Every effort is made to keep prices up to date but Ashford Craft Shop reserve the right to alter a price without further notice.
Privacy Policy
Any information we collect from you throughout the ordering process is used only to process your order. All information supplied to Ashford Craft Shop is considered private and confidential and will not be passed on to a third party. Visitors to our website are recorded using IP addresses for statistical purposes only and are not identifiable. Should you wish to be removed from our database at any stage, please contact us directly
Delivery:
Due to some of our products not being available from the supplier , we may have a delay on your delivery. If this is to happen, we will be in contact with you to confirm the expected date of arrival.
Return Policy:
We are happy to exchange any products purchased from Ashford Craft Shop. If you wish to return any products, please ensure that you are in contact with us, prior to returning your return/exchange item. It is to be returned to us in its original condition, with the original sales receipt within 28 days of purchase.
Exclusions:
We will not pay for any postage charges that may incur when shipping return products back. Damaged labels, or modified products will not be accepted as a return. Sales items cannot be returned or exchanged. Return payment will be given as the original payment method of sale.
Faulty Items:
Faulty goods will be replaced, if possible. If replacement is not possible we will refund the item in the same form that payment was made.
Payment Options – no order will be dispatched unless payment is received.
Within New Zealand
Bank Deposit: If you wish to use this method, we will contact you with your processed order details including the shipping. Payment is required within 1 day from receiving these details. Products will be dispatched when the funds are showing or available in our bank account. Account details: ASB 12-3494-0018828-00 Knitcola Stitchery Ltd
Credit Card: We offer either Visa or MasterCard for payment. These card details can be entered into our secure payment page. The total amount, including shipping, will be charged to your credit card when your order is manually processed by us before dispatch. "Billing descriptor" – As per card statement, your transaction will be indentified as 'Ashford Craft Shop'
Pay Pal: We do have a Pay Pal account under team@ashfordcraftshop.co.nz, if you wish to use this option.
Bank Cheque: If using this method of payment; please ensure that your cheque is written out to Knitcola Stitchery Ltd with all your contact details on the reverse of the cheque.
Overseas Orders: Payment must be made via either Visa or MasterCard only. All prices are in New Zealand dollars and incl. GST.
We ship to most countries in the world that are on a normal postal delivery route.
Postal:
Within New Zealand
Orders placed will incur a shipping/handling charge due to the amount and delivery address. An additional cost will incur on any items being sent via rural delivery of $6.20NZD
Please ensure that when giving details, you include all correct postal/post code information. Ensure to indicate if you are rural delivery (includes RD numbers) or P O Box customers as an admin fee of $5.00NZD will occur, if you fail to do so.
Your shipping/handling charge will be in addition to your order total.
International
International customers (Outside of New Zealand) Postage will be calculated on the weight/dimensions/destination of the order being shipped. Orders are sent by International Airmail only.
Delivery time of 8 – 14 working days from posting depending on shipping and destination
Your shipping/handling charge will be in addition to your order total.
Please note: Import duty varies from country to country according to product, weight and value.  It is the purchaser's responsibility to check their country's customs and import duty regulations before placing an order with Ashford Craft Shop and you the purchaser to pay any duties applicable on arrival if requested.
Undelivered Parcels:
Please contact us by email within 21 days of the expected or otherwise advised delivery timeframe if your order has not arrived. We will replace or refund based on the result of NZ Post's investigations. Late claims may not be able to be adequately investigated by NZ Post
Liability
Ashford Craft Shop accepts no responsibility for products not used according to the manufacturer's/suppliers instructions.
Disclaimer: Colour variations may occur as a result of photography or different computer versions available.
Knitcola Care Instructions:
Our yarn is manufactured in New Zealand & Overseas. We have taken the upmost care to ensure you are purchasing a high quality product, however due to the hand-dyeing process there maybe some variances in the colour.
We recommended that you hand wash your yarn/ finished garment for the care and longevity of the product.
Warm hand wash
Do not bleach
Cool Iron setting
Yarn Information:
Merino 4ply
New Zealand Wool, 4ply Superwash treated, Spun and hand-dyed in New Zealand
100gms net at standard condition – 320mtrs/349yds
Tension: 2.75mm – 3.25mm, 10cm x 10cm (4ins), 26 – 28 stitches to 30 – 36 rows
100% NZ Alpaca
New Zealand Alpaca4ply, Spun and hand-dyed in New Zealand
100gms net at standard condition – 360mtrs/393yds
Tension: 3.25mm – 3.75mm, 10cm x 10cm (4ins), 26 – 28 stitches to 30 – 36 rows
Laceweight
50% Alpaca/25% Wool/15% Silk/10% Cashmere, Hand-dyed in New Zealand
50gms net standard condition – 320mtrs/349yds
Tension: 2.50mm – 3.25mm, 10cm x 10cm (4ins), 26 – 28 stitches to 36 -42 rows
Correct Tension:
We recommend that you do a tension swatch before starting your project
The success of your finished garment depends on tension. Check this carefully before you begin to knit. If there are fewer stitches to the 10 cm [4 ins] than stated, your tension is too loose; use smaller needles. If there are more stitches your tension is too firm; use larger needles.[/vc_column_text][/vc_column][/vc_row]